Digital identities with blockchain technology
Various sectors are strongly affected by increasing demands concernign digital innovations and solutions to ensure a future-proof process landscape. With our strategic alliance partners, we are bringing you one step closer to your digital identity strategy through the implementation of a solution based on blockchain technology enriched with KPMG's Blockchain Risk-Control Framework and Blockchain Maturity Assessment.
Challenge:
The modernization and digitization has been greatly accelerated in the last years, not only by the Covid-19 pandemic. A fundamental change is the introduction of digital identities. Digital identities can reflect any personal or corporate identification attribute, for instance university certificates, vaccination proof for Covid-19, or audit reports for firms. These attributes must be provided through a secure and tamper-proof blockchain solution.
At the same time, the following process-related requirements must be met in this context:
- Ensuring risk prevention for IT-supported business activities when implementing a blockchain solution
- Prevention of threats due to lack of access or incorrect processing of relevant data records
- Defending against unauthorized access to the tool, its data, and unspecified security and change management procedures
- Addressing different risk factors arising from the specifics of the blockchain solution's technical design
- Avoiding restrictions on the use of current and future IT systems when implementing blockchain technology
- Ensuring that the applied software development methods do not jeopardize the continuous use and adaptability of the blockchain solution
Solution:
Together with its technology partners, KPMG offers the right and comprehensive solution to face the numerous challenges in implementing a digital identity solution.
The solutions of our partners enable you to easily build and integrate a blockchain network on your individual IT environments to meet the technological requirements of a digital identity. You will be provided with key enterprise-grade capabilities that ensure continuous monitoring, high performance as well as availability and security. KPMG's Blockchain Risk-Control Framework and KPMG's Blockchain Maturity Assessment form the regulatory and process-oriented components of our solution. Our experts advise you from the beginning with building a customized Risk-Control Framework around your blockchain solution to meet process-related requirements in the following areas: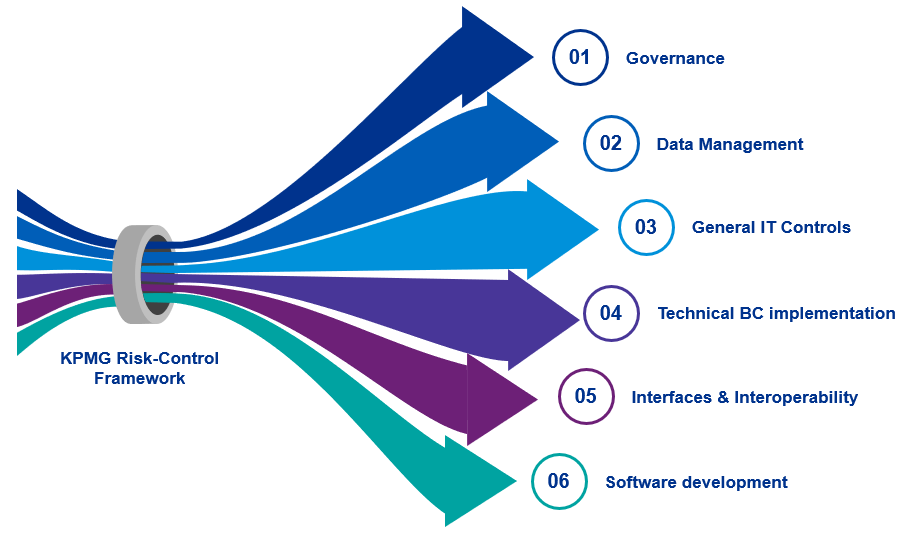 With the KPMG Blockchain Maturity Assessment, you receive an all-round assessment of the use of blockchain technology in your organization. This gives you the opportunity to determine the maturity of your processes and their readiness for blockchain while receiving established consulting approaches from KPMG's experts.